Occupying a stunning stretch of the Adriatic coastline and reaching far into the depths of central Europe, Croatia is a land of breathtaking beauty and diversity. Split in two by the mighty Dinaric Alps, Croatia's Mediterranean region is home to a sparkling island-speckled archipelago and a rugged mountainous mainland made up of craggy peaks, deep underground caverns, clear-water rivers and rushing waterfalls emptying into picture perfect lakes. To the east, the rough alpine terrain gives way to fertile rolling pastures that take up most of the country's central European region.
Croatia's precarious position in-between the Balkans and central Europe has led to its lands being subject to the competing interests of different regimes for millennia. Because of this, Croatia has inherited a history full of turbulence and strife, but it has also inherited a rich cultural mosaic that bears the marks of all the different civilizations that passed through its lands.
In addition to its natural beauties and cultural treasures, Croatia also boasts a buzzing social life and delicious local cuisine. Music festivals, traditional celebrations and regional carnivals are common throughout the year, while the exceptional products of Croatia's land like its wine and olive oil are becoming ever more popular.
With such a spectacular variety of experiences available it can be hard to know where to start, so we have put together two itinerary ideas that will help you get the most out of this beautiful country.
Journey 1: Croatia's Magnificent Cities and Medieval Wonders

From the iconic old town of Zagreb to the halls of the Diocletian Palace in Split and the striking fortified city of Dubrovnik, exploring the metropolitan areas of Croatia will give you a perfect introduction to the country's exciting city life, fascinating culture and long history. Here are some things you can look forward to in each location.
Zagreb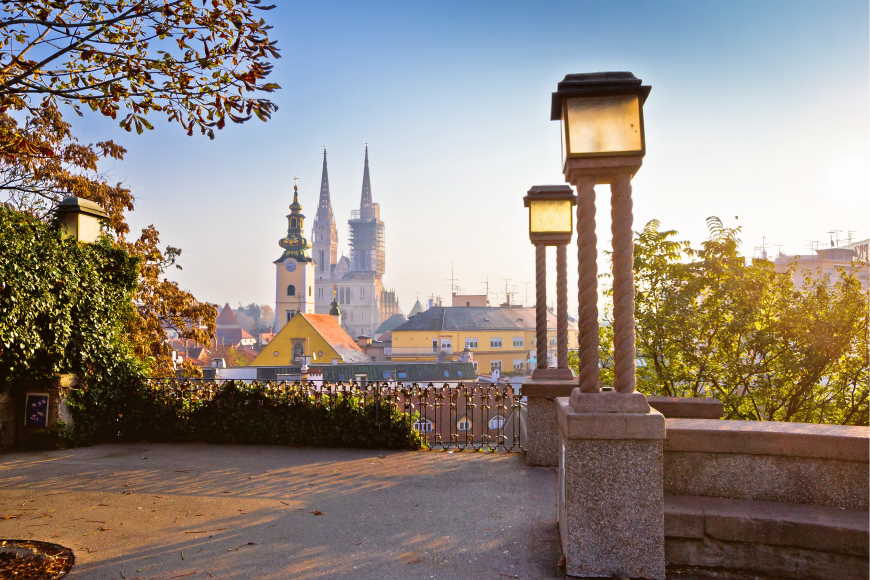 The Croatian capital is made for walking. Home to atmospheric cobblestone streets lined with gorgeous neo baroque buildings and austere modernist architecture all located within just a few blocks from each other, there's never a dull moment in Zagreb. Coffee is the beverage of choice for the city's people, so find a spot in one of the cafeterias to do as the local do and catch your breath in between bouts of exploring this vibrant city.
What to See & Do

Zagreb's Upper Town is arguably the most beautiful part of the city and an absolute joy to explore on foot. The towering Zagreb Cathedral on the Kaptol is a superb example of Gothic architecture and the city's most iconic landmark so it is well worth a visit. Visiting the Zagreb Eye Observation Deck is your best option to get a panoramic view of the city, while local life and shopping can be enjoyed at the Dolac Market and Ilica Street respectively.
Split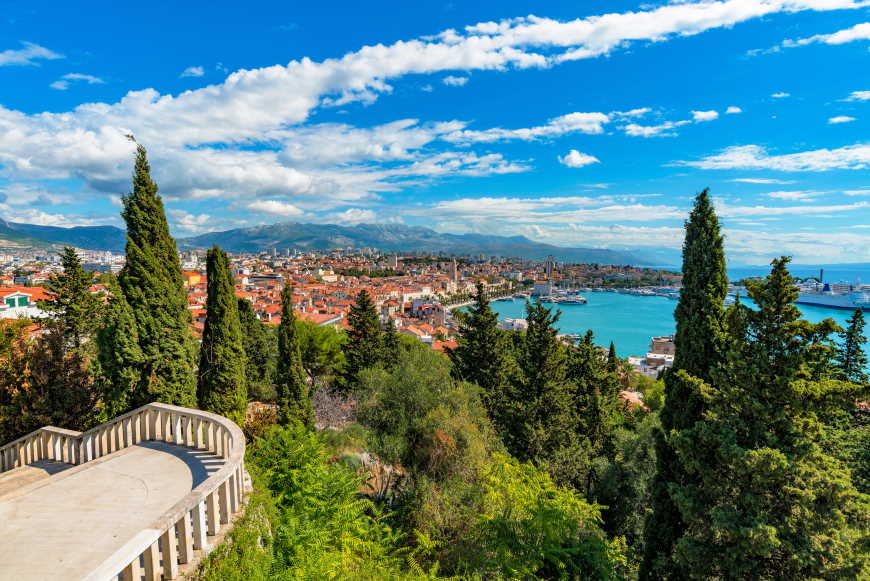 Beautiful and laid-back yet youthful and buzzing at the same time, Croatia's second largest city strikes a perfect balance between traditional and modern. Its stunning location between Mount Mosor and the iridescent waters of the Adriatic makes it spectacularly picturesque while a long history of occupation by several different civilizations has enriched Split with plenty of interesting cultural attractions. Bars, restaurants and shops tucked away amidst the city's atmospheric old walls are commonplace, and a big part of Split's informal charm.
What to See & Do

The 4th century Diocletian's Palace is a UNESCO World Heritage Site and doubtless the city's most spectacular historic attraction while the bell tower of the Cathedral of St. Dominus that is located within the palace is a great spot to get a view of the city from up high. If you're looking to scratch a culture itch, the Mestrovic Gallery and the city's Archaeological Museum are both good options.
Dubrovnik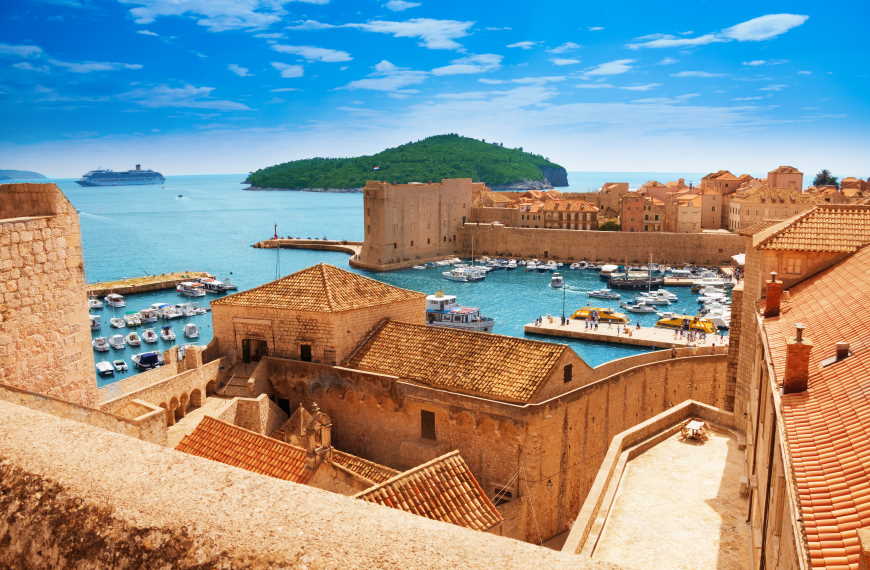 The "Pearl of the Adriatic" as it is otherwise known, Dubrovnik is arguably the most enchanting city in all of Croatia. Its giant stone walls set against the shimmering Adriatic Sea is nothing short of an amazing sight to behold while the old town enclosed within them is a wonderland of winding limestone streets that snake through an amalgam of Gothic, Renaissance, and Baroque architecture.
What to See & Do

The old town of Dubrovnik and the walls that enclose it are regarded as some of the most well-preserved examples of medieval architecture in the world and you'll find no shortage of photo ops in this part of the city. For a breathtaking view of Dubrovnik and the small islands just off its coast, hop on the Mt. Srd Cable Car just north of the city.
Journey 2: A Slice of Dalmatian Life and Sunkissed Islands
Split and the nearby islands of Hvar and Brac are famous both for their beauty and for their relaxed, laid-back way of life. In fact, this relaxed way of being in the world that is so characteristic of Dalmatia has its very own word in the Croatian language – Fjaka. Roughly described as "a state of mind when there is an aspiration for nothing and to do nothing", getting to experience the essence of Fjaka is the idea behind this next itinerary.
Split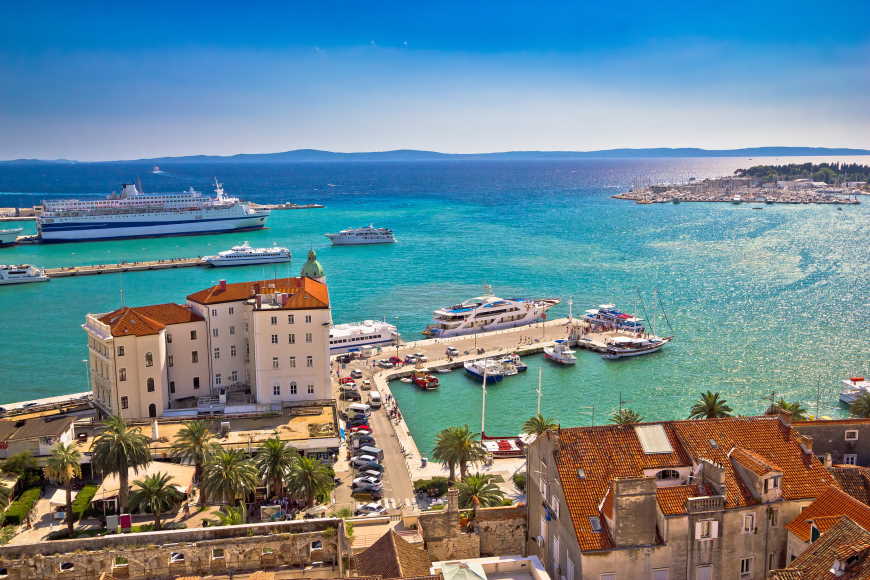 In addition to its cultural riches, Split is also a gateway to the brilliant islands of the Dalmatian archipelago and a fine ambassador of the region's signature way of life. Kick back and relax in one of the many cafeterias, bars and restaurants around the city, take your time exploring its streets and feel time slow to a crawl as you embrace Fjaka and become one with the Dalmatian spirit.
What to See & Do

When in Split, it would be a shame if you didn't at least visit the UNESCO listed Diocletian's Palace but since the main point is to relax, head to the Riva to sit with the locals in one of the many cafeterias overlooking the promenade.
Hvar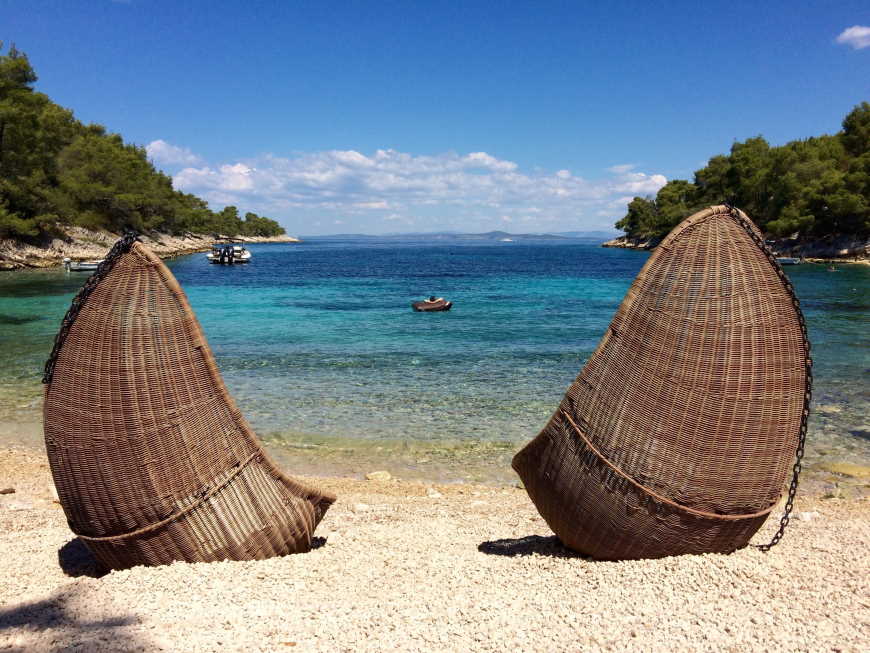 With more than 2.500 hours of sun every year, Hvar is the Croatian island that everyone wants a piece of. Replete with swanky hotels, luxurious yachts, and top-tier restaurants, Hvar Town is the place to see and to be seen. There are several small pebbly beaches to each side of Hvar Town where you can top up on vitamin D, while the island's northern coast is home to more low-key towns.
What to See & Do
The Town of Hvar is where most of the action can be found with a plethora of posh restaurants, bars, and cafeterias frequented by international jetsetters and celebrities alike. Further inland you can explore the island's vineyards and famous lavender fields. The nearby Pakleni Islands are also worth exploring on a day trip.
Brac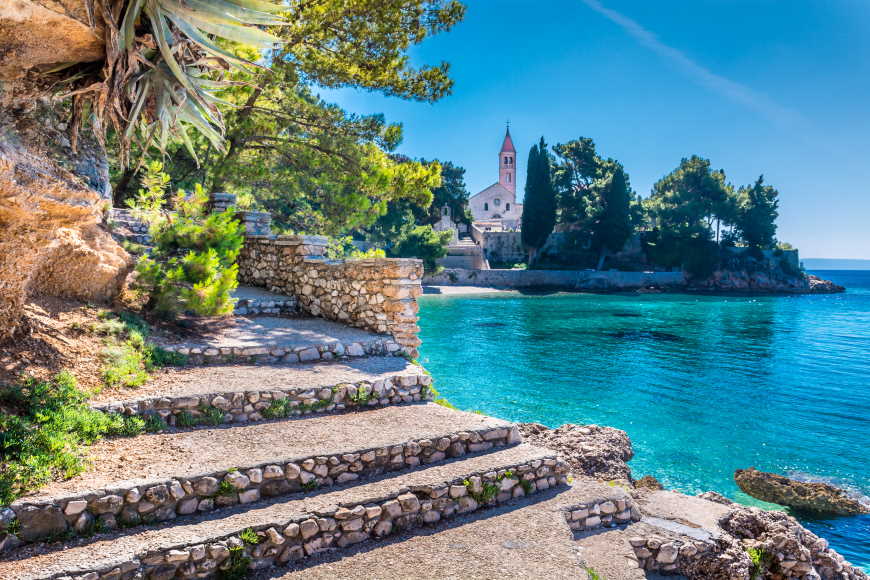 The largest island of central Dalmatia is best known for two things. Producing the brilliant white stone that was used in the construction of Diocletian's Palace and what is arguably the most popular beach in all of Croatia - Zlatni Rat. Though it is home to a fair number of towns and villages, Brac is surprisingly far less touristy than the nearby islands of Hvar and Korcula, making it an ideal place to experience Croatian life at its most authentic.
What to See & Do

Brac pretty much allows you to take things at your own pace. Explore the fruits of Brac's famous viticulture tradition in one of its vineyards, sample the island's delicious cuisine at its restaurants, and enjoy the peaceful atmosphere. If you're looking for a good shot to remind you of your holidays, head over to the summit of Vidova Gora for a great view of Zlatni Rat from above.
TAKE ME TO CROATIA