As travel activity gradually resumes, we begin to plan our Mediterranean discoveries by asking ourselves: which destination will offer us a genuine Greek experience and the feeling of intimacy and privacy? In a word: where can we experience a secluded vacation?
We discussed with our TrueTrips Experts who have first-hand knowledge of Greece, and came up with the following combinations of place-and-stay to offer our guests exactly this: a sheltered experience that remains true to the heart of a Greek vacation for when you are ready to travel once again.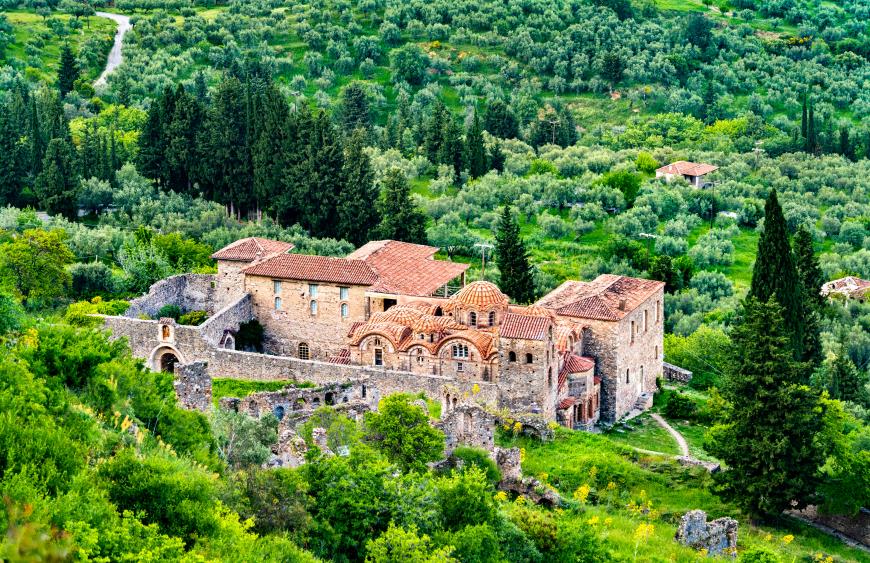 Connect with Nature at the Euphoria Retreat in the Peloponnese
The Peloponnese is a land full of surprises and exquisite landscapes. Prepare for a journey where you will come across wild mountains and crystal clear blue waters in the same picture frame, and hear stories from classical Greece and its mythology to the medieval wonders of mystical Byzantium - this is a place of emotions!
On the south-central corner of the Peloponnese, about two-and-a-half hours by private car from Athens, you will find Mystras, a designated UNESCO World Heritage Site thanks to its medieval history and remains. The citadel of Mystras is a testament to the grandeur and sophistication of the millennia-old Byzantine Empire, and it was one of the empire's last standing strongholds before falling to the Ottomans and then to the Franks. As life and societies in that time were centered around religious worship – for the Byzantines in particular that was the Orthodox Christianity denomination – it's of little surprise that the churches and monasteries are the most beautiful and architecturally interesting sights one visits in Mystras today.
If you're looking for comfort and exceptional wellness treatments to splash out on, the Euphoria Retreat offers everything you need: from massages, to yoga and meditation, to customized nutrition and gastronomy explorations. Among the property's most highly rated facilities is the impressive spa with the trademark "sphere" swimming pool that creates a womb-like floating atmosphere, together with the marble hammam that is perfect to completely relax as you soak up the therapeutic vibes. Surrounded by pristine nature and centuries of history, Mystras and the Euphoria Retreat offer a holistic travel experience that will revitalize your entire being.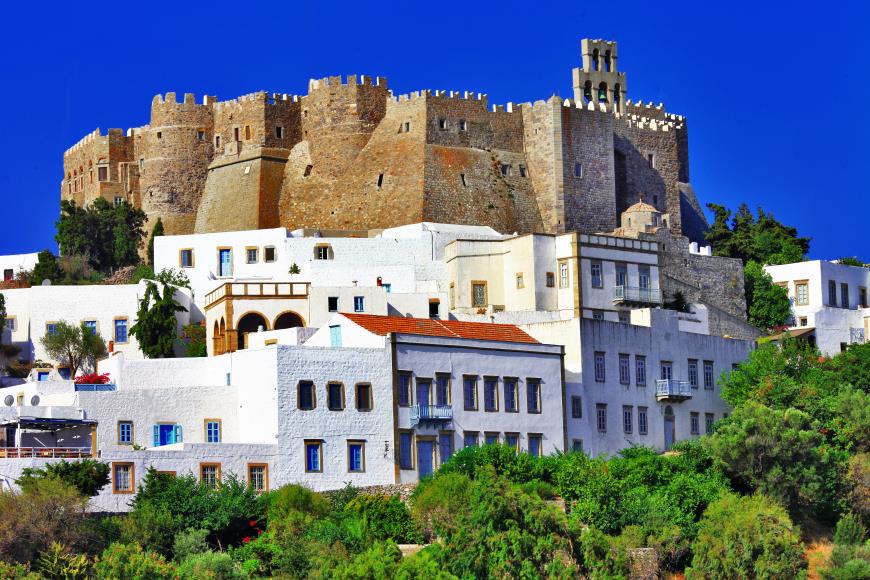 See the Lesser Known Face of Greece at the Petra Hotel & Suites on Patmos
Who is not reminiscing of the years when travelling to a Greek island was only for the few and an island was all to yourself? This is still the case on Patmos island and the Petra Hotel & Suites. Getting there might initially seem like a long way, since Patmos does not have an airport, but "good things come to those who wait'' and this is truest with Patmos.
The homey and picturesque main town called "Hora" is not to be missed; this traditional medieval settlement with two-story mansions, coble stone alleys and small neighbourhood plazas full of character will captivate you at once. It was in Patmos where Paul the Apostle wrote the Book of Revelation in the so-called Cave of the Apocalypse, making Patmos a "Holy island" and an UNESCO World Heritage Site. The island also offers plenty of well-marked trails to venture off to nature and admire the magnificent sea views, while there are plenty of beautiful beaches and small tavernas to enjoy a perfect day out. For those who want to explore almost entirely secluded and pure setting, there are also the islands of Arki and Martahi that are just a few nautical miles outside of Patmos. About 50 people live on both islands combined, so it doesn't get much more secluded than that.
Your Patmos experience will be further enhanced by staying at the Petra Hotel & Suites, a boutique and family run property overlooking the bay of Grikos that offers a quiet and chic corner to call home for a few days. With just 11 rooms, a decked swimming pool that is perfect for hanging-out and enjoying those lazy summer evenings, as well as fantastic panoramic views over the bay, the Petra Hotel & Suites will make your time on Patmos even more enchanting.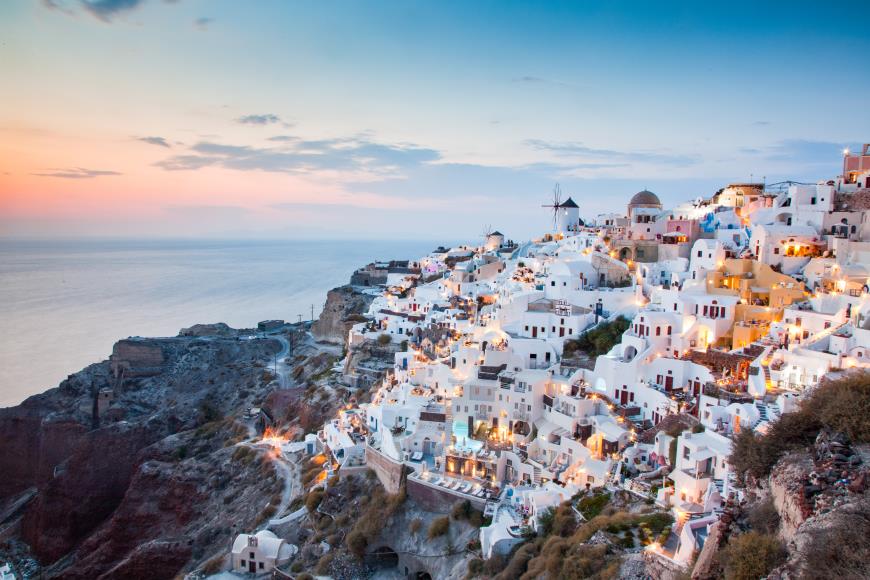 Experience Island Serenity at the Andronis Luxury Suites in Santorini
An ever-changing place Santorini is. In prehistory, it was a booming piece of land called ''Stroggyli'', translating to ''the round island'', because back then it was a mountainous round island that housed a powerful volcano. This volcano erupted more than two millennia ago and caused a huge tsunami, giving birth to the myth of Atlantis and the croissant-like island shape we see in Santorini today. The volcano erupted again in 1950, causing yet another smaller tsunami that devastated the local economy. With this long history of eruptions, believe it or not, Santorini was long passed over for the prettier sandy beach settings of other near-by Cycladic islands. Real estate was cheap here in the 80s and 90s, but this all changed when the new digital era arrived and transformed Santorini into the sensation it deserves to be. Today, Santorini is most appreciated for its dramatic cliffs that overlook one of the largest caldera formations on earth - a sight that is to die for regardless of the time of year you may be visiting. Though usually full with travelers, an unexpected silver lining of the Covid-19 outbreak is that you can now enjoy the island free from the crowds.
The Andronis Luxury Suites that is proudly located on a picturesque pathway of the village of Oia is an ideal choice for luxury accommodation on Santorini. This seducing and picturesque location is no more than an actual village that was turned into a glamorous hotspot. Staying at the Andronis Luxury Suites will shelter you from the crowds, yet allow you to be close enough to the area's famous shops and restaurants, meaning that you have the choice to do what feels right in the moment. Spending time at the Andronis Luxury Suite guarantees an experience of pure luxury that combines all the perks of vacationing in one of the world's finest destinations with none of the drawbacks.