As the booming parties and large summer crowds give way to the peace and tranquillity of the fall, it may feel like the time for a Greek island holiday is over, but this couldn't be further from the truth. By now, most travelers have made their great exodus and the narrow cobblestone streets of the islands are free to breathe once more. The beaches too feel much more relaxed with fewer people around and of course, the weather is still phenomenal! If this isn't enough to convince you, consider that this time of year is the perfect chance to take advantage of lower prices and enjoy staying at some of the most exclusive hotels in Greece at a fraction of the cost you'd be asked to pay during summer! So, cast aside any reservations you might have had about going on holidays in autumn and grab a hold of those passports, because this is the time to experience Greece at its very best!
1. Treat Yourself to the Mykonos Experience
Mykonos island is known for its picturesque whitewashed homes, its legendary golden sand beaches, and above all, for being Greece's premier party destination; attracting jetsetters from all over the world looking to get a taste of the international phenomenon that is the Mykonos experience. With near endless options to choose from, finding the right place to stay in Mykonos can seem like a daunting task, so we decided to keep things simple by giving you some of our top hotel choices on Mykonos.


Myconian Villa Collection:
Overlooking the stunning Elia Beach, the Myconian Villa Collection sits on a hillside on the southern side of Mykonos. Its exterior follows traditional Cycladic architectural norms while its stylish interior spaces feature a fresh minimalist design with an emphasis on soothing white colours and décor that echoes the island's nature. Add to this round the clock personalized 5-star service along with on-site amenities that include a saltwater infinity pool as well as an eclectic selection of exclusive wellness and relaxation treatments and you have yourself the perfect Mykonos luxury hideaway.
Belvedere Mykonos:
Set amidst Chora's scenic alleys, this is a hotel that carries the charisma of old Mykonos into the modern age. Stone-walled gates leading to a gorgeous bougainvillea clad courtyard set the mood upon arrival while luxurious suites and elegant villas in modern Cycladic lines underscore the ingenious design that has established the Belvedere Mykonos as one of the most iconic boutique hotels on the island. Whether enjoying the magnificent view of the Aegean Sea from the pool or savoring the delectable creations of the Belvedere Club or Matsuhisa Mykonos, this boutique hotel will enchant you with its understated elegance and effortless luxury.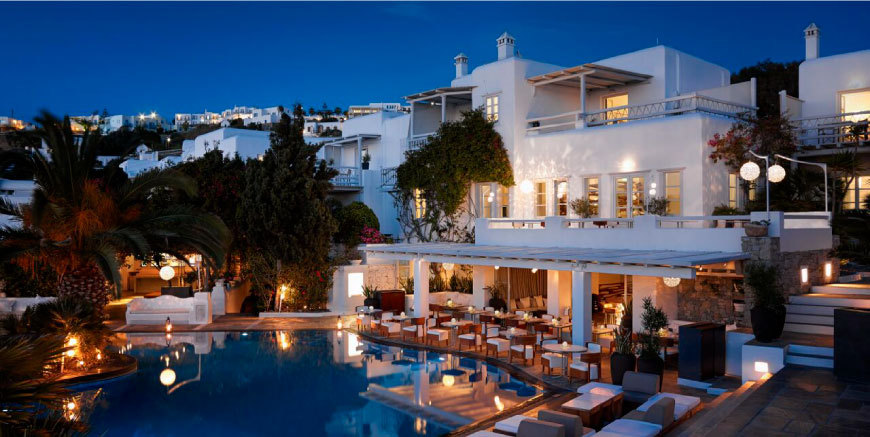 2. Redefine the Boundaries of Luxury Living in Santorini

Santorini is the southernmost island of the Cyclades, world famous for its incurably romantic atmosphere, the untamed natural beauty of its caldera, and the endless vistas of the Aegean Sea. Amidst such exceptional scenery, these two properties stand out for their unblemished style and unwavering commitment to offering nothing short of world class service.
Andronis Luxury Suites
: Renowned for its tranquillity and unique sense of elegance, the Andronis Luxury Suites is built amphitheatrically on the edge of the Caldera's cliffs. Its 27 award-winning cliff-carved suites are the epitome of classic luxury and modern minimalism, while their luxurious outdoor infinity pools offer incredible unobstructed views of the sunken volcano, the rocky silhouettes of the surrounding islands, and the calming blue waters of the Aegean Sea. If you're looking for one of Santorini's most emblematic luxury experiences, look no further than the Andronis Luxury Suites.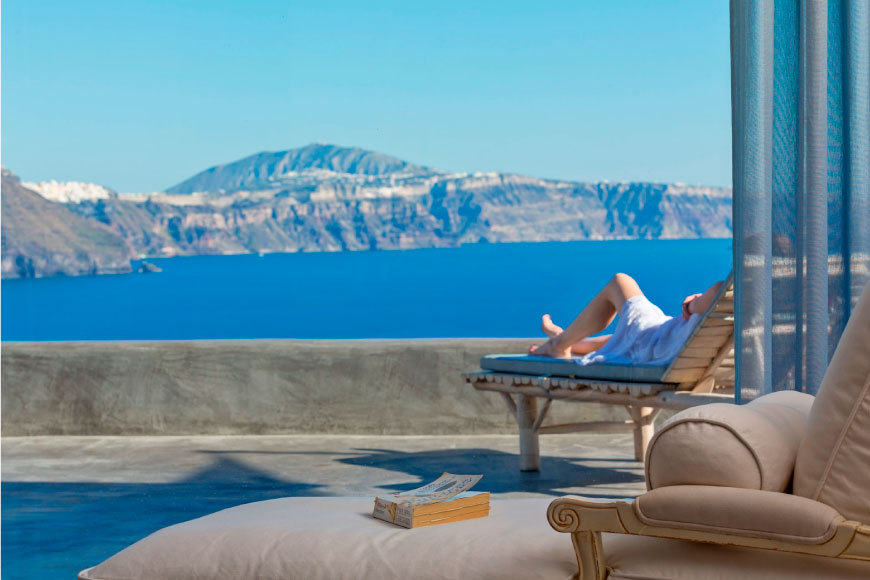 Vedema, a Luxury Hotel Collection Resort:
If you're visiting with children, the impressive five-star Vedema, a Luxury Hotel Collection Resort, is an ideal choice. Tucked away in the pretty village of Megalochori and built around a 400-year old winery, this property features stone-built walls, winding paths and cobbled terraces that reflect its long history, but it also tastefully incorporates outdoor jacuzzies, private pools, and state of the art amenities into its design, thus adding a splash of the contemporary onto its quintessentially Cycladic canvas.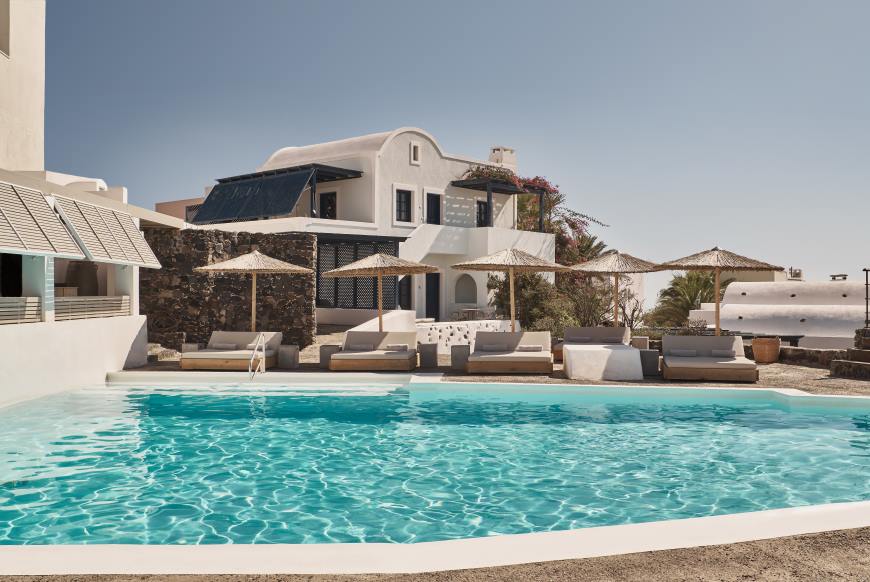 3. Find your own Hideaway in the Minoan land, Crete

Crete is a breath-taking mosaic made up of scenic towns and villages, splendid beaches with crystal clear waters, and a stunning array of natural landscapes. It also boasts a rich and fascinating history that stretches all the way back to antiquity as well as delicious local cuisine that has been praised as much for its flavour as it has for its health promoting benefits. Being a land with so many blessings, it comes as little surprise that Crete is also home to some of the most exclusive hotels and resorts in Greece, and we have narrowed it down to two of the island's finest.
Blue Palace, a Luxury Collection Resort and Spa:
Embraced by the Libyan Sea and hailing the Gulf of Mirabello, the Blue Palace is an emblem of unparalleled opulence. The resort introduces its guests to the contemporary version of Cretan hospitality, elegantly combining luxurious accommodation and award-winning cuisine with exquisite spa facilities and world-class service. Whether you're looking to visit the Minoan Palace of Knossos, discover endless vineyards and picturesque villages or sail a traditional "caique" boat to Elounda, the Blue Palace is your ticket to exploring Crete's endless possibilities.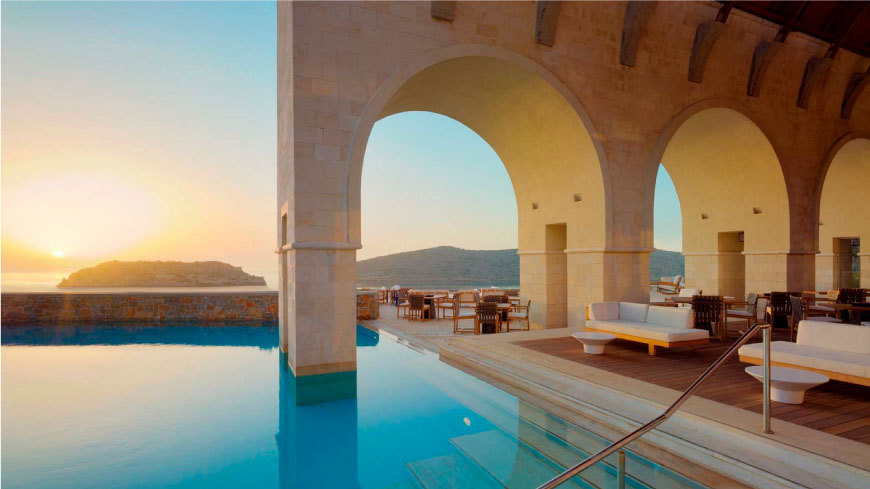 Domes Noruz
: Noruz means new day/light in Farsi, and this captivating adults-only boutique hotel that sits on the outskirts of Chania most definitely lives up to its name. Its ingenious design makes excellent use of the ample Mediterranean sunlight while calming sandy hues with splashes of blue that reflect the colors of the sea add a refreshing note to the property's aesthetic. Featuring top of the line health and wellness facilities, themed gastronomy nights hosted by gourmet chefs, and a private beach where you can soak up the sun, you will fall in love with everything this exceptional property has to offer.